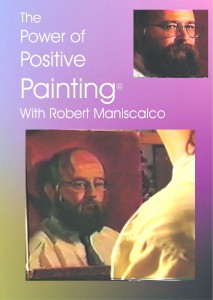 The Original P3 Instructional Painting Video
The Original Power of Positive Painting© DVD is an entertaining, user-friendly, highly informative instructional painting video, covering everything from developing an effective drawing and under painting, to mixing rich luminous flesh tones, to completing a finished portrait. Robert's step-by-step method demystifies the art of portrait painting.
"I'm finding more and more artists who would like to be able to master honest observational skills — they want the power to paint what they see," says Robert.
The P3 Method™ is a continuation of the teachings of Frank Reilly, who's emphasis on the effective use of values to create form laid the foundation for many of today's most successful artists. Regardless of your subject or style, whether you're a beginner or a professional, now this simple concrete method is available to you! The information packed P3 Painting Video can be yours for only $69.95 $39.00.

Robert's painting demonstrations and workshops have been very well received in Louisiana, Mississippi, North & South Carolina and Michigan with several more currently planned in California, Georgia and Florida  The Metropolitan Museum of Art sold the P3 Video in their gift shop for years! Here are a couple of the many positive comments coming from those who have purchased the painting video or participated in the painting workshops. Visit "guest book" to view recent participant comments:
"I am so pleased with the improvement in my painting that was visible immediately as a result of Robert's instructional painting video. You do the critiques so candidly and without allowing personalities to effect your comments. I will certainly recommend you and your workshops whenever possible." — Brenda Delle

"I absolutely got my money's worth! Now I know I can paint a face and all the parts will be in the right place! Painting the P3 way is a lot of fun!" — Caroline Goodman

"Well you are not only a very gifted painter, but an effective inspirational teacher. Your instruction is sound and you are very good at articulating what you are trying to explain. the video has reminded me of all of the good things I've had said to me in the past as well as some things i need to hear today like "don't apologize ". Well I've been under your influence all day as I started my judge painting. Ii do wish I had a stronger light source in my photo but as i had told you on the phone, the photo was a done deal and it was my job to say " yes I'd love to". from a practical aspect I am developing some al new approach as I am a 60 % acrylic painter, a 37% watercolor painter and a 3% oil painter. I also have years of doing things my way and they are habits, not necessarily all good ones either, however they have served me over the years. Well let me wrap this up by saying that I really think you are the real deal, and I've enjoyed your instruction. Years of theater has set you up for making a cool video and that's great to combine all of those skills at once." Betsy Wilson-Mahoney

Checkout the Introduction to the PPP Video now!