A Practical Application of Truth
Be wary of accepting conclusions which contain aspects of truth but are not entirely true. As humans, we have surprisingly little access to absolute truth, even though so many of us claim to have a monopoly on it. I found it extremely liberating when I realized my thoughts and perceptions are not actually real.
An good example of this, with which I am currently struggling, is, "older people are not afforded the same opportunities in society as younger ones." Whereas there may be some truth in this statement, it is not entirely true. And in that margin of this untruth is tremendous opportunity.
The opportunity is to change our paradigm about what we perceive as "existing reality."  People don't pursue their dreams because of these "existing realities."  I am certainly very guilty of this.  It takes a tremendous force of will to convince me that I can become, for example, a successful emerging playwright in my 50s.  But he fact that it is possible, however remotely, is enough to motivate me to try.  If I accepted that it is extremely unlikely, according to "existing reality," then there would be not point in attempting.  I think this is what stops most people from pursuing their dream.  There is always some notion of the "existing reality" that stops us before we begin.  The truth is, if there is even the slightest chance of success, however we choose to define that word, then it is worth the risk of the attempt.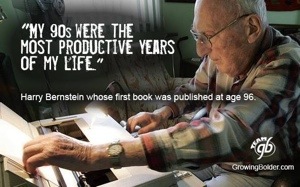 ---
You might also like