Private lessons and career coaching
PRIVATE ART LESSONS AND CAREER COACHING
Robert offers professional, personalized coaching & critiquing services to those serious about a career as a fine artist or commission portrait artist. Robert offers one-on-one coaching, addressing the issues that stand in the way of you realizing your career goals as a professional artist. There are many paths to success, which are often difficult to see. Robert will help you find your path, putting his over 30 years of experience of trial and error to work for you. Each program is tailored to your specific needs. Regular consulting, even over the phone, is essential for success. Robert will help you clarify your goals, helping you design and implement a plan of action that holds you accountable to yourself. Robert has helped launch numerous successful careers. Let him help you launch yours.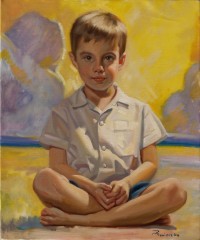 COACHING IS GETTING YOU TO DO WHAT YOU DON'T WANT TO DO IN ORDER FOR YOU TO BE ABLE TO DO WHAT YOU WANT TO DO.—VINCE LOMBARDI
Are you ready to make the leap from the sidelines to the playing field?
Is it time to go from a dedicated amateur to the ranks of a professional artist?
Is your career in a holding pattern?
Need a mentor?
Need a coach?
Need an honest critique?
Need an outside / bird's eye view of what you're doing?
Coaching
Professional Coaching is an ongoing partnership that helps clients produce fulfilling results in their personal and professional lives. Through the process of coaching, clients deepen their awareness, improve their performance and enhance their career and quality of life. As your coach, Robert will:
Discover, clarify, and deepen what you want to achieve as an artist and as a business person.
Encourage and challenge you in self-discovery, developing your unique voice as an artist.
Help you to generate solutions and strategies that lead to balanced action.
Save a lot of wasteful trial and error
Challenge you to be diligent, responsible and accountable in your career.
Increase your bottom line.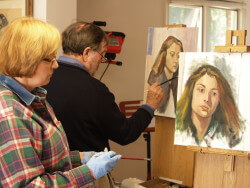 Benefits include
Developing a meaningful artist's mission statement (one that will actually help you make the art you really want to be making!)
Developing a practical, functional business plan, a blueprint for your career
Setting powerful, achievable long and short-term goals
Removing creative and professional blocks
Building a professional body(s) of work
Developing a professional bio and resume (these should tell a story)
Getting into a gallery or finding a broker
Making your own opportunities
Achieving effective PR/promotion/name recognition in your market
Increase Sales and hone the marketing of your work
Provide inside tips on the fine art and/or commission portrait business
Share well researched information and models available by fax/email
Advancing your career as economically as possible
Critiquing Service Fees
$45 for first artwork
$25 for each additional artwork – limit three works.
$85 for a critique of an entire body of work (between 4-15 individual artworks related to one another in some way).
Private Lessons
$85 per session or $225 for 4 consecutive weekly sessions. Robert will give you a crash course and professional assessment. Bring some previous work and your dreams for the future and you will will leave inspired and renewed, having a better sense of what you have to contribute as an artist. He will tailor his instruction to your specific needs and desires.
Coaching Fees
$150 / month includes an initial 1 hour consultation by phone or in person, followed by three (3) weekly thirty-minute phone consults over each month. Plus periodic reviews of homework via email.
Critiquing Services
Detailed critiques available on-line (transmittal of work via email), by phone or in person. Critiquing services includes:
Proactive written commentary/critique
Career assessment based on the work presented
Concrete assessment of formal structural elements of the presented work
Discussion about developing a body of work
Assessment of the market for the work and/or body of work
Ideas for an artist's statement based on the work itself
All critiques include one follow-up email to address specific questions about the critique