I am that I am not. I am Neti.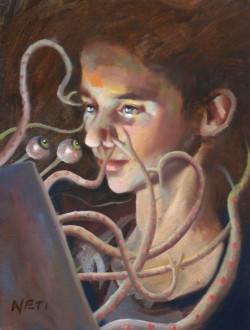 See NETI RUN (remove unecessary nonsense)
"There is a war on beauty in the world.  There is a war on intellectualism.  There is a war on history where only the new is cool.  The only new thing is that which has not yet been experienced by those who've never experienced it, yet.  It's called narcissism. It is not new; it is very old.  Our narcissism is used to control us.  Those in control feed into our complacency so they can remain in control. They celebrate our individuality, as long as it resembles everyone else's individuality. Wearing Nike shoes will never make you unique. Voting for ____ will not save you from yourself.
What appears to be a revolution is really complacency in disguise. The real war is between our ears, where our perceptions are skewed by our own certainty; we accept what is placed in front of us as the truth, simply because it has become attached to what is familiar to us. Our inability to discern what is true, from what is familiar, due to a lack of questioning, is the enemy. We look to the vaguely familiar past for answers about the future. But they are not there, which makes us fearful. And those who would take advantage of this lack of real inquisitiveness are using anything familiar and comfortable to us, anything that might trigger our ego, our narcissism, to control us.  The fear of losing control, which is the greatest illusion, is what they use to control us." The only solution is the destruction of all ideas about what is true.
---