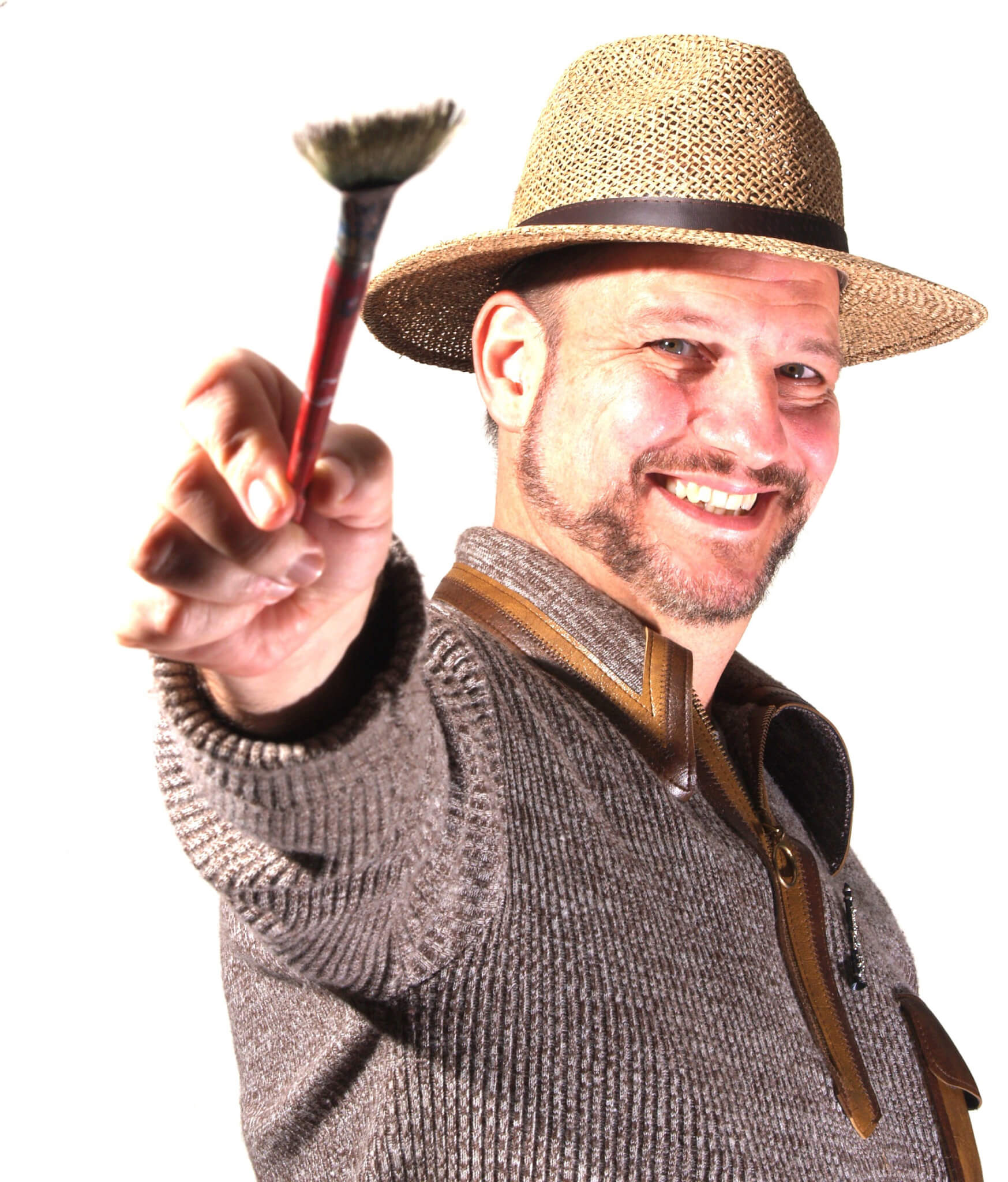 Robert has been a professional creative all his adult life. Born in 1959 in Detroit, he has lived in New York, New Orleans and currently in Charleston. His commission portraits and fine art are part of over 950 collections throughout North America. In Detroit he hosted Artbeat on PBS and founded the Maniscalco Gallery. As an artist, he likes to work in series or missions. He also is well known for his commission portraits. His most recent mission was The Quench Project, in which he traveled to Haiti, producing several paintings, a documentary short, along with a companion book (Quench), juxtaposing the Haitian struggle with obtaining fresh water against our society's materialistic obsession. He is also an actor/director, writer/playwright, musician/composer and teacher, an Adjunct Professor in fine art and theatre at Charleston Southern University. Recently, Robert expanded his creative milieu to include courtroom sketching, covering the Dylann Roof and Michael Slager trials in Charleston. His original play, Vincent John Doe, received its world premiere during the 2018-19 Piccolo Spoletto Festival.
Extended Biography
To know about the artist, you must understand Robert's painting method is built on the classical painting traditions of Rembrandt, Velazquez, Hals and Sargent.  Like these artists, Robert explores the use of light and shadow as a means of creating mood and achieving character expressively in his subjects. Born in Detroit in 1959, he is the son of internationally renowned portrait artist Joseph Maniscalco, with whom he apprenticed during the early 1980's. He moved to New York City in 1986 where, in addition to his fine art, he also worked as an actor and director on numerous stage, film and TV projects. He returned to Detroit in 1997, after a three year portrait residency in New Orleans. In Detroit he founded the Maniscalco Gallery, which showcased many local and international artists. As host of Art Beat, the critically acclaimed and popular PBS series on Detroit Public Television, he explored the creative process with his celebrated guests. He has created two DVDs on painting portraits, called The Power of Positive Painting and published a novel called The Fishfly, a semi-autobiography about the artist and his struggle to resolve his dark past.  Though his creative muse has taken many forms he has discovered a common thread which connects them all together. Robert speaks to the basic need we all share to communicate aesthetically about the human condition, particularly the celebration of man's capacity to overcome great struggle.
Since 1980, Robert Maniscalco's exquisite commissioned portraits and fine art have become part of over 950 distinguished private and public collections throughout North America. He shares his remarkable path toward personal and professional growth and creative self-expression in his book, Point of Art. . In addition to his exquisite portrait art, Robert has created several bodies of work, including Faces of China, Italia, and a series of pastels on velour entitled Chromo Sapient. He continues working on a series called Faces of the Lowcountry, featuring the Gullah Giche people and the Carolina Lowcountry as well as a series called, Iconic Charleston. He has been focusing on a new series called, The Quench Project, in which he is traveling to Haiti and producing paintings, a documentary short and a companion book, expressing the Haitian struggle with obtaining fresh water. in partnership with Watermission. The series has expanded to include multiple manifestations of  desire and what it means to quench it.
He is also the Doppelganger of the ephemeral artist, NETI, "who is that he is not." These works explore the deep recesses of the imagination, with whimsical and sometimes dark imagery emerges in the wild wonderful world that is NETI.
Robert has written and performed in a new play, called Vincent John Doe, which asks "what if Vincent Van Gogh somehow showed up in our time." VJD was part of the Piccolo Spoletto Festival in 2018 and 2019.
Robert currently lives in Charleston, South Carolina where he continues his mission with his amazing wife Cate and two amazingly talented children, Danny and Mary.  Check out Cate's bio and read about their amazing love story.  Also, take a look at Robert's Christian testimony.